The Orchard School & Community Center offers a variety of camps for children
The Sol Y Agua Day Camps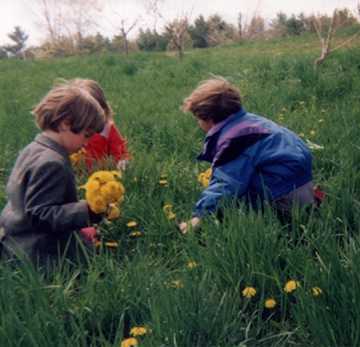 for younger children ages 3 - 7
Sol Y Agua provides an experience of community in action within an environment rich in opportunities for exploring and playing. The children are part of a village group where campers enjoy the flow of each day through a variety of activities, including creation of arts and crafts projects, dramatic play, sand and water play, harvesting from the neighboring farm, and participating in many aspects of the larger camp community. Whether actively participating or observing others, these children are encouraged to learn and teach, thus gaining a sense of their importance and place within the camp village and the life of their community.
Todo El Mundo Day Camps
The Todo El Mundo Day camps have a theme for each week ranging from Lego Tech Shop (working with Lego Dacta technology) to Japanese Handcrafts & Folk Arts, and beyond to the creation of the African Village with Kibibi Ajanku, Co-director of the Sankofa Dance Theater of Baltimore.
Todo El Mundo Overnight Camp
The Stadium School & Orchard School Collaborative
"Weaving our lives" is the vision of this urban-rural interracial camp wich brings a collaboration between youth of Baltimore, Fall Mountain and other regions. Campers spend a week living in tents, harvesting and preparing food together,forming new friendships and strengthening old ones. Themes of heritage, community and individuality come into clear focus as they create artwork, share stories, explore the environs, participate in theater and play cooperative games. Being part of a learning community, campers develop skills of problem solving, understanding and self expression, empowering them to envision and build their own futures.