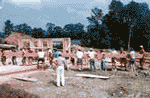 In 1990 The Orchard School was founded by three women friends who joined collectively to share resources and work. They wished to create as a group a place for gathering, growing and learning. Classes were held in a converted apartment above a woodworking shop and in the home of one of the teachers for the first three years. It became clear the community needed the school and the school needed its own home to have space for the increasing numbers of students coming to partake in the schools offerings. A decision was made to ask the community for help in creating a building to house the school. In mid winter of 1994 planning started in earnest for a massive volunteer effort to erect a 2500 sq. foot building that summer. With that impetus came a tremendous, unimaginable release of energy that required a commitment to harness the power of the creative "YES" and channel that energy to do it "NOW". There were different degrees of commitment and investment depending on each individuals time available for this project. Over 275 people from the surrounding communities contributed more than 3,000 hours over the course of the summer and by September The Orchard School was able to open its new doors.
The truly amazing part of this building project was the goodwill and cooperative spirit exhibited by everyone involved. Over the course of a better part of a year leadership and responsibility for construction of different aspects of the building were taken and shared by a group of builders comprised of parents of Orchard School students, community members, teachers and their husbands.
It was a consuming, exciting, exhilarating process that formed the foundation of our school and created a model of co-creation that resulted in the physical manifestation of the building that now houses The Orchard School.